Talking about the future of the oceans sustainability at the COP25
We spend 2 days in Madrid to present a new report on climate change economic impacts
---
10/12/2019 -
The Future Oceans Lab has traveled  to Madrid to attend for the first time the Conference of the Parties of Climate Change (COP25) and participate on a series of parallel events in the Blue Pavilion. During two weeks, country representatives, scientists, students, NGOs, journalists and other participants join efforts to put climate change at the core of international policy and advance in the Paris Climate agreement. During the series of side events, Elena Ojea participated in the presentation of the Blue Paper on Climate change impacts in the Ocean economy. This report has been commissioned by the high level panel for an ocean economy, a group of country governments that have put forward a science effort to elaborate 16 strategic papers about the oceans to be able to plan and map the new architecture for ocean sustainability.  Elena Ojea represented the paper co-authors together with Willow Battista, from Environmental Defense Fund. Lead authors are UCSB researchers Steve Gaines, Chris Free and Reniel Cabral, and the report also has contributing authors from around the world.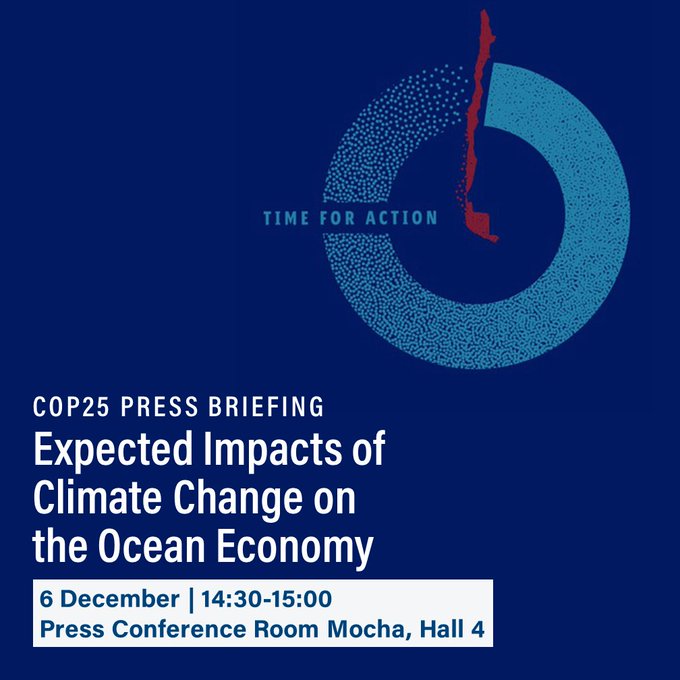 The high level panel organized two events to launch the climate change report: a press conference on Friday and a panel discussion on Saturday morning. Elena Ojea presented the highlights of the blue paper in the press conference with representatives from Norway and EDF, and on Saturday attending authors of the blue paper went into more details of the results in a special session that was fully packed.
The new blue paper provides country-by-country estimates of climate change impacts in wild capture fisheries and coral reef based reefs, and the potential of aquaculture to grow under climate change.
Results highlight very high losses from RCP8.5 in 2100, with decreases between 15-30% in fisheries yield in the Atlantic and Pacific Ocean, and the worst regions having  projected decreases in fisheries yield up to 85% in west African countries. The analysis also shows that for most countries, these impacts in fisheries yield can be offset with adaptive climate resilient fisheries management. For coral reef based tourism, coral reef cover is expected to decrease as much as 87% globally due to warming and acidification, with losses over 90% for most of the countries where the tourism industry is large. For mariculture, the report illustrates how there is scope for expansion under climate change and suggests that there is potential to compensate some of the losses in wild fisheries and tourism with aquaculture expansion. However, in order to expand aquaculture countries need to engage in sustainable practices, reduce the feed dependence on wild stocks and adopt climate resilient practices.
Elena Ojea during the press conference for the HLP Blue paper.
For more news,

click here
---
CATEGORIES: Dissemination, Elena Ojea, Outreach, Research, Results